What happens in a Lesson?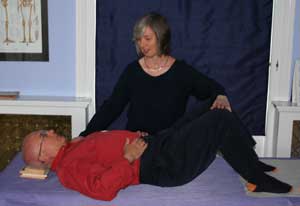 The work is very gentle – I use my hands to guide your movements, and to indicate places of tension. We typically move you in everyday ways, for example sitting and standing, and also work with you lying on a table (most of my pupils think that's the best bit!). It helps if you remove your shoes, and wear comfortable clothing that allows you to move easily
You develop awareness of what it is you are doing with yourself, and this gives you the ability to change.
How many lessons do I need?

This will depend on what you want to achieve, and how ingrained any harmful habits are. You can discuss your needs in the first lesson. Most people notice an effect on their well-being after about six lessons – however, some notice immediately, and with some it takes a little longer. I offer a course of ten lessons for a discounted price, at the end of which you will have a good idea of the scope of the Alexander Technique, and how it applies to your own situation.
How long is a lesson?


The first lesson is one hour long, subsequent lessons are 40 minutes.